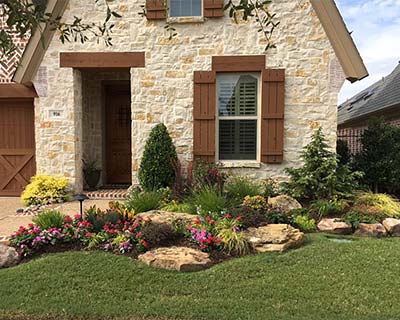 Achieving a gorgeous landscape is not possible if you don't hire a competent landscape contractor to work for you. Fortunately, you don't have to look too far to hire skilled landscapers – all you have to do is call us. At AMA Landscape and Design, we have been creating awesome landscapes for residents of Prosper, Frisco, McKinney, Denton, Plano, The Colony, Dallas, Sanger, Grapevine and Allen, TX. From the time we began operations we have managed to cement our reputation as a landscaping company that provides great results and not just empty promises. We are the best contractor that you can possibly hire given our numerous successful projects and our dedication to excellence.
Please call us now at 214-592-5504, and let us begin working on your dream landscape.
Versatile Landscape Contractor
With our proud tradition of creating masterfully designed landscapes for residents of select Texas cities, our company has emerged as a renowned landscape contractor. Our knowledge and versatility have allowed us to handle various landscape services with commendable results. For many years now, we have been offering comprehensive landscape services at rates that clients can easily afford. Here's a short discussion of the two major tasks that we can perform for our valued clients:
Design. While most other landscape contractors dismiss the importance of the design phase in achieving great outcomes, our company puts emphasis to it. With this, we strive to capture our clients' ideas and desires and incorporate the same into our own. We use modern computer design software that allows us to render designs in great detail. We also allow for changes when requested by clients to come up with a design plan that is aligned with their target results.


Installation. In any landscaping project, the actual installation phase is vital to achieving what the client expects to see and experience. As a seasoned landscape contractor, we don't just install gardens but also other landscape elements, such as outdoor fireplaces and kitchens, BBQs, patios, driveways and walkways, pool decks, water features, retaining walls, and other structures. We have the tools and equipment for every possible task, and we use only the finest materials to guarantee amenities with outstanding qualities.
Top Landscape Contractor
As a well-experienced landscape contractor for residential and commercial properties, we follow a meticulous approach to landscape design and installation. Our unique approach allows us to guarantee the quality and aesthetics of our handled landscaped property, hence earning the trust of our clients.
We begin with careful planning during which we conduct interviews and site visitation to gain a deeper understanding of the tasks ahead. After doing preliminary preparations, we slowly but surely execute everything on the approved plan. Our skilled crews carefully install all the amenities using only the highest quality materials and supplies available to us. Finally, we perform a quality check to see if everything was done according to the plan. Only when we get our clients' nod do we declare a project finished. With us, nothing is left to chance. So if you want to be sure of exceptional results, we are just one phone call away.
"MORE ARTICLES"
Landscaping
Landscape Maintenance
Outdoor Living